Hugh Hefner Sky Villa Palms Resort
Hugh Hefner Sky Villa Palms Resort
Everybody knows who Hugh Hefner is but not everyone knows Hugh Hefner Sky Villa Palms Resort.
If you thought you found sexy before in a hotel, you were so wrong. The villa was built to derive from the original Playboy Mansion model. Of course it has elements from a Playboy magazine article about the ultimate bachelor. The entire construction of the suite was priced at $10,000,000, but you can rent for a small price of $40,000 per night.
Why is this so special? Apart of its owner the man with the bunnies, Mister Hugh Hefner, this Sky Villa it has it all. Hugh Hefner rarely leaves his luxurious mansion, but when he does, he stays a few nights in this luxury suite, called the Sky Villa. It`s located in Las Vegas and it has all the Playboy elements present.
Two-store 9,000 square foot villa includes a glass elevator (in which the  guests access the villa), a rotating bed- you read that right, yes- beneath a mirrored ceiling set and a glass wall Jacuzzi, which expends out over the hotel to give you a private look to the breathtaking view.
All that, plus, your own butler Service, massage and spa room, gym and poker table, fireplace, three bedrooms and a pop-up plasma TVs, Playboy art collection (art, yea).
The Hugh Hefner Sky Villa Palms Resort is has everything "Payboy-ish", amazing artwork which was personally selected by Hugh, that amazing rotating bed,  an indoor pool in which you can see the Bunny logo.
But guys, I know you think something is missing and you might be right, but this price doesn't include girls with bunny ears in bikini.
You can throw parties in the suite, all your 250 of your closest friends will fit in the suite. If that doesn't fit your needs, you can always rent the Erotic suite at a fraction of the price ($4,000); you'll be enjoying the mirrored ceilings and the rotating bed.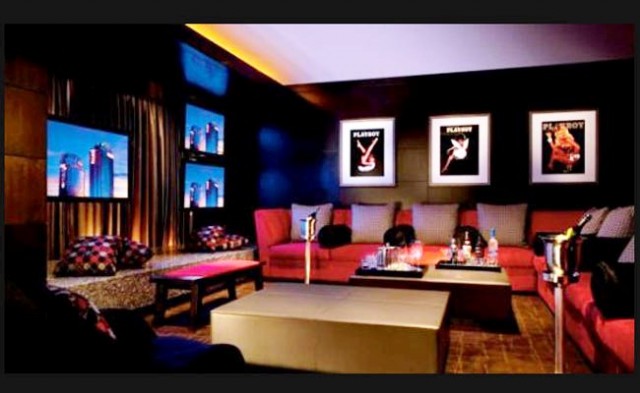 Hugh Hefner Sky Villa Palms Resort is the second most expensive hotel in the world.
It is internationally recognized for its exceptional accommodation, awesome clubs, the extravagant pools and all the energy Las Vegas can give to you.
Hugh Hefner Sky Villa Palms Resort is situated on nearly 30 acres; all the three distinct towers were built to give you unparalleled views of the Las Vegas and Spring Mountains.
What do you think about Hugh Hefner Sky Villa Palms Resort?  Would you visit? Remember, what happens in Vegas, stays in Vegas!